This is How We Would've Ordered EY's Top 10 business risks and opportunities for mining and metals in 2021.
EY's Top 10 business risks and opportunities for mining and metals in 2021 report seems to have been impacted by the pandemic as much the industry it reports on. It tells a much more pessimistic tale than its 2020 predecessor. It's briefer and focuses more on surviving risks than on seizing opportunities, however, there is still some excellent analysis.
Still, we disagree with their ordering.
Heres why:
Mining's (Nearly) Perfect Culture for Surviving Covid-19
Early on EY's report acknowledges the mining industry's ability to adapt to the covid-19 crisis and weather the storm well.
This isn't surprising. The industry has long had to endure intense scrutiny from workers, governments, communities, health officials, environmental groups, and the media. Creating an industry that prioritizes worker health and safety, that has long standing collaborative relationships with governments, communities, and respect for the opinions of experts. This put them in an excellently position to quickly make the necessary changes Covid-19 required. And lets not forget, the mining industry was recognized early on as an essential industry and therefore able to maintain operating in at least some capacity during the worst of the economic shutdowns.
The New Word Order
EY's top 10 has seen a complete reshuffling from the 2020 report- not surprising considering the world has seen a complete reshuffling since the beginning of 2020.
Here is EY's graphic from their 2021 report showing their top 10 risks and opportunities for metals and mining in 2021 and the position changes from their 2020 report: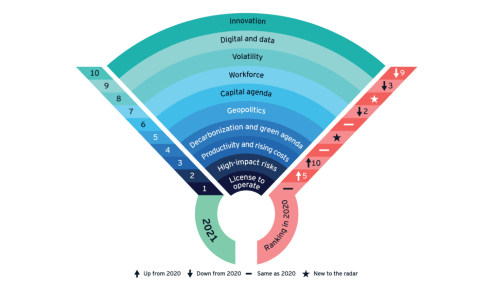 A refocusing on risks rather than opportunities explains the new positions of Digital and Data Optimization (D&D) and Innovation.
D&D and Innovation dropped from numbers 3 & 9 to 9 &10 respectively. They are no longer being perceived as risks by the industry. The pandemic has accelerated their adoption and highlighted the benefits they offer to companies in terms of safety, efficiency, and agility. The mining industry has confronted their fears of the digital revolution and emerged victorious- relegating D&D and Innovation to their newly lowly positions and perhaps the emotional status of discomforting rather than debilitating.
This shift to reporting on the glass half empty has created an interesting dilemma. Risk ranking and opportunity ranking have diverged and trying to classify them together as a Risk & Opportunity is forcing a poor fit. I do recognize the need to keep the same title for marketing consistency, but its a hard pill to swallow.
EY Lists D&D and Innovation as lower risks. They should be ranked highly as Opportunities- maybe even numbers 2 or 3 if reclassified.
The reason is, as has been illustrated by the pandemic, that D&D and Innovation are key to weathering all of the other risks listed(with the possible exception of License to Operate- but I could easily argue that they are key to overcoming that as well).
Here's why I disagree with EY's 2021 Risk and Opportunities Ranking- analyzed in the order presented (I recommend you read their article first for context).
1. License to Operate
Mines may be facing increasing pressure to give (or have forced on them) more control over the mine assets and operations to the communities they are located in. EY argues the solution to this risk is messaging and rebranding. However, the key to these rebranding and messaging initiatives will need to be the adoption of digital data and technological solutions to show how the previous perceptions no longer apply and to make the industry more palatable to those outside it.
2. High-Impact Risks
EY states that more focus should be paid to business destroying risks like the pandemic. However, despite the fact that we are currently living through a global pandemic, does not change the fact that it is still a once in 100 years event. Regularly preparing for a once in a 100 year event would be cost prohibitive- especially when you have no idea what that event could be be.
Better instead to invest in the creation of an agile environment that can make the changes needed quickly when that unforeseeable event occurs.
Key to that agile environment? D&D and Innovation. Options are what allows a company to pivot quickly and to have solutions ready for implementation when necessary. D&D and Innovation is not the be all and end all solution. They merely expand available options from which to choose to best meet the moment.
Look at it another way, what if, instead of a world wide pandemic and social distancing it had been World War 3. Suddenly all networks are down everywhere. In that case, the mines that survive will be those that can easily shift away from the digital option and have maintained the skill sets required to operate in a non-connected world.
Since we have no idea what High Impact Risk will strike or when, in order to overcome EY's no. 2, we need options and agility. And its the widespread adoption of D&D and innovative solutions that will provide those options and agility.
3. Productivity and Rising Costs
See the EY Top 10 risks and opportunitys for mining and metals in 2020 report to see why D&D and Innovation are the answer to this concern. Essentially, they allow for increases in efficiency, productivity, and thus profitability. Reducing waste and operational risks to further trim the fat on a ledger sheet that is inching towards the red.
4. Decarbonization and Green Agenda
Want to reduce greenhouse gas emissions (GHG)? Want to reduce waste? Reduce environmental impacts? Prevent pollution and environmental disasters? Again. Invest in D&D and Innovation.
The solutions are already available

AI to identify operational waste like unoptimized haul roads leading to increased gas consumption and GHGs
Automation to increase worker safety
Real time site monitoring like for deformation monitoring in tailings dams
Cloud processing & storage for remote working & less traveling
EY states that "Companies that increase their focus on environment, safety and governance issues can strengthen their LTO and gain a competitive edge in the fight for capital."
How do you do any of that without D&D and Innovation?
5. Geopolitics.
EY identifies the shifting political landscape as a major risk factor for 2021. It's definitely a risk, and this writer is at a loss for how investment in D&D and Innovation can overcome this... Unless, again, you are looking to create that agile environment with a tool chest of options available should the winds suddenly shift...
6. Capital Agenda
The mining industry battened down the hatches and weathered the storm by tightly managing their expenses- trimming the fat and focusing on necessary operations. EY argues that maintaining this uber cautious defensive position risks missing out on new opportunities.
Those new opportunities? Innovation, what gets you the innovation? data.
7. Workforce.
We've all seen the workforce transformation coming. We all knew it was inevitable. EY included it in their reports for years. But this year it dropped from risk no. 2 to risk no. 7. Workforce transformation is here. Covid forced it. Its done and there's no going back.
The incredible benefits of remote working, virtual teams, automation, smart tools, cloud processing, and so much more are recognized by management and workers alike.
They've lived with it, they're familiar with it, its not scary anymore and because of Covid there were no excuses to delay the transformation.
The key to all of that workforce transformation was D&D, Innovation, and the adoption of a digital environment and it's just getting started.
8. Volatility
It's hard to plan for the future when you have no idea what the future looks like. The best you can do, without a crystal ball, is try to optimize your operations to such an extent that you are never irrevocably overcommitted to one course of action. Again, fill that tool chest with solutions that will allow you to pivot as necessary. Additionally, increasing efficiency and streamlining operations allows companies to save money and create a buffers against volatility.
9. Digital and Data Optimization & 10. Innovation
EY argues that D&D and Innovation are ranked lower because now they are less scary. Many large mines are already adopting digital transformations and are well into the process. This is true. The businesses that invested in technology before Covid were strategically placed to weather it.
If this report were solely about the risks to the mining industry I would probably rank them even lower. But this report is about the risks and the opportunities facing the mining industry in 2021. Relegating D&D and Innovation to nos. 9 & 10, for their decreased scariness, does a disservice to their continued position as an opportunity- especially since many of the risks ranked higher could be significantly mitigated by D&D and Innovation.

What's next for your business?
2020 was a rough year and 2021 is a giant question mark. It can be overwhelming. But those who can adapt gain huge competitive advantages. D&D and Innovation will empower operations to maximize productivity, efficiency, safety, compliance, and so much more.
Time to dig in.
Do you agree or disagree? What Risks and Opportunities do you see effecting the Mining Industry in 2021? We'd love to hear your thoughts.

Check out our 2 Free E-books on AI applications for the drilling, blasting, and mining industries to see all the amazing advances that are available.
AI Guide for Drilling and Blasting
AI Guide for Mining
TLDR? Watch our videos instead:
YouTube
Subscribe to
Get the latest posts delivered right to your inbox