How Drones and AI are Empowering Post-Blast Assessment
It is becoming more important than ever to optimize operational efficiency and cost savings. The market is demanding more product for lower prices and the easy to trim fat has already been cut away. As contractors, managers, and owners are demanding evermore better performance the only solution left is to embrace the insights offered by data.
Everybody knows that blasting is the most efficient way to break up earth. Everybody knows that blasting results have a huge impact on downstream operations. But quantifying blasting results and then using that information to make operational improvements has traditionally been very difficult.
Now however, new technologies are available that have made measuring, analyzing, and improving blasting results surprising fast, easy, and accessible.
Blast Results Analysis is Faster, Easier, and More accessible than ever before.
2 Technologies that Make Post-Blast Analysis a Breeze: Drones and AI
Drones are empowering post blast analysis by making data collection...

DJI Mavic Pro 2
Faster: A typical bench survey takes less than 20 minutes. Flying a muckpile is even faster.

Better: Images come geo-referenced which allows you to create models with centimeter-level accuracy.

More Varied: Drones are capable of carrying a variety of different sensors in addition to the traditional RGB camera. They can take videos, carry thermal imaging cameras, lidar, and even hyperspectral imaging cameras.

Easier: Drones need a single operator to fly and there are many apps out there that allow you to program flight plans for the drone. No need to do it manually anymore.

Affordable: Drones capable of surveying mine and quarry sites are now available for around $1500. If something happens to that drone and it's damaged simply order a new one and you'll have it in a few days or even get one from Best Buy or Walmart. For less than the price of a laser scanner repair you could have an entire fleet of drones.

More Efficient: Because Drones fly above a site there is no need to halt operations to conduct an inspection. The drone can fly the muckpile the minute the dust clears and can image the entirety of it in minutes. They can image it again while the loaders are working as often as you want.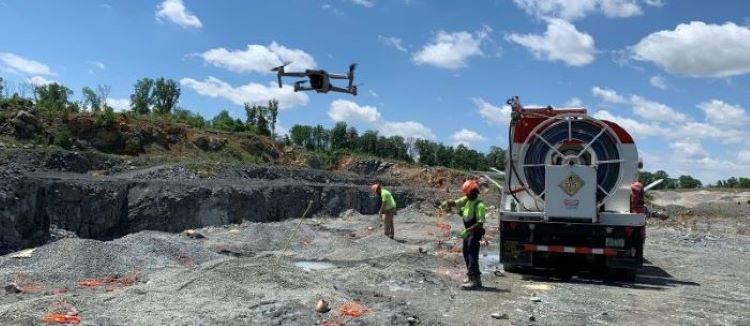 Keep working
Safer: Again, drones fly. No need to have boots on the ground in the pit. Don't put your team in harm's way. The drone can fly over muckpiles, it can fly near to highwalls, it can fly near to big machines. And now drones come with object avoidance technology standard so you don't need to even worry about it running into a truck or pole- the drone won't. All you need to worry about are bird attacks.
AI is empowering post blast analysis by making it...
Faster: Using data gathered by pretty much anything, AI is able to sort, sift, and comb through mountains of data in seconds. The AI can create a 3D model from drone gathered data in under an hour.

More Accessible: Taking the 3D model and adding to it data identified by computer vision is like adding labels to your muckpile, then being able to look inside it and turn it around in 3 dimensions. The AI can detect and label your muckpile shape, your fragmentation size, locate surface ore, and more.

3D Fragmentation Analysis
Integrated: The 3D model allows you to to put together different data sets that previously wouldn't have been possible. Now in a single model you can see the blast design, geological data, measure while drilling data, timing and loading data, bore-trak data, and combine it with the muckpile and fragmentation data. Then that same muckpile data can be used for loading & hauling, milling, and stockpile management.

Rock Mass AI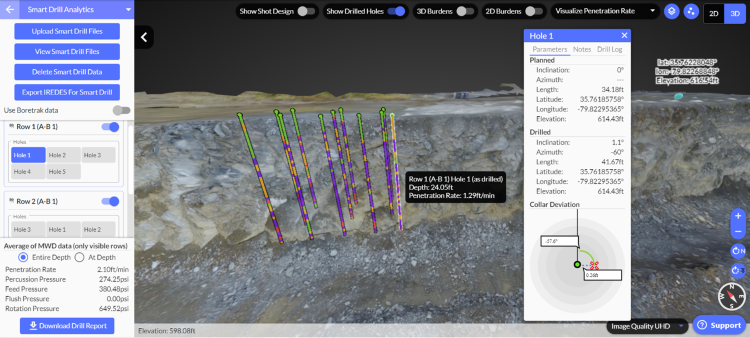 Measure While Drilling Data Integration
Predictive: Access to all of the data along the operations process allows for pattern analysis never before possible. Now the AI can identify patterns in the pre-blast and post-blast data to make predictions. This drill plan and this timing & loading design will likely yield this muckpile shape and this fragmentation. With the data from previous blasts, future blasts can be optimized.

Muckpile Shape Prediction
Easy: The insights generated are automated. All you have to to is toggle on a switch and the AI will generate the data for you to see on the digital twin. You can adjust the parameters and see the results in real time. Set the fragmentation sizes you are interested in and the model will show you the results instantly. The reports are generated automatically- all you need to do is download them.
Post- blast analysis is critical for overall operations efficiency. Drones and AI have made it easier than ever to get the fragmentation you want, the muckpile shape you want and to improve cast material movement. So what are you waiting for?
Want to know more?
Check out our webinar: After the Blast: Measuring Blast Performance with Artificial Intelligence

New technologies are rapidly changing the drilling, blasting, mining, and aggregates industries, empowering them in ways never before possible. Make sure you are taking advantage of the best tools available.
Check out our 2 Free E-books on AI applications for the drilling, blasting, and mining industries to see all the amazing advances that are available.
AI Guide for Drilling and Blasting
TLDR? Watch our videos instead:
Subscribe to
Get the latest posts delivered right to your inbox