Webinar Summary- Reading the Rock
Reading the Rock: Geology Considerations in Blast Design
Webinar Resources
Watch the On Demand Replay
Download the Presentation Slides
Summary
From fragmentation to fly-rock, back break to vibration, geology can have drastic effects on the results of your blasting. A well designed blast takes into account site specific rock characteristics, to achieve the desired results.
Technical Specialist and Solutions Engineer Elijah Williams discusses how to accommodate rock characteristic information into your blast design. Starting with drone data to analyze highwalls and identify face characteristics such as bedding planes, dip & strike angles, and 3D burdens, to adding drilling data to measure changes in the rock strata, deviation, and cavity locations.
Hear Elijah's best practices, tips and tricks, and lessons learned from years of experience on how to lay out, load, and time your shot while taking into account your specific geology to get your best blast
Polls
With over 300 regitrants we had excellent audience participation. Here are the poll questions asked and their responses:

Q&A
1. How do you compensate for Sandvik drilling automatic drill control functions?
The Sandvik XML drill file data can be imported into Strayos to be visualized in the Measure while drilling feature. Features such as penetration rate, feed, percussion and rotation can be seen.
2. Do you only import collar and toe coordinates or do you also get intermediate coordinates along a borehole? Is Strayos able to display a borehole with intermediate coordinates?
Strayos can Import/Export toe and collar coordinates, Intermediate coordinates can be imported as well.
3. I would like to know if it is possible to import the entire data to Strayos and be able to see a borehole trajectory (not only a collar and a toe connected by a straight line)
Strayos can accept drill designs in CSVs to show a visual borehole trajectory, as long as the design is imported and mapped within correct location and EPSG code.
4. How do you deal with vertical holes when it comes to measure them with a probe? I mean in this case the azimuth is difficult to capture properly.
Aligning your probe to set an appropriate baseline azimuth before using boretrak probe will allow you to gain an accurate azimuth readings. Refer to the probes manufacturer on how to set a proper azimuth. Allowing the probe to settle its movement in a vertical hole before taking a reading will allow it to collect an accurate reading.
5. In places where we don't use bore track, what is the alternative approach to understand what is happening inside the hole?
Take extensive drilling notes to understand how the hole is drilling in the geology it is in. A common practice used is the "flashlight test" where lowering a light down a hole can show which direction and depth the hole is deviating in. Utilizing 3D profiling will provide a reference for pre drilled holes, however boretraking is the most efficient way to capture down the hole conditions.
6. How do you optimize Strayos if the drilling machine does not have MWD?
Strayos can optimize the face and pattern burden within the drill design process. Strayos optimizes these factors to place boreholes where they are best suited based on the design criteria by the user (burden, spacing, hole diameter ect).
7. Which is more effective blasting vertical blastholes or inclined blastholes?
Hole angles can differ from site to site and the geology within each site. One location might produce better results with a vertical borehole vs and angled borehole.
8. Do you or how do you consider the jointing when determining your sub drill?
A common calculation for Sub Drill = 0 to (0.5B) with 0.3 x Burden being average. If there is consistent jointing on a site, finding the proper sub drill depth can benefit floor conditions.
9. Can you incorporate borehole probe data into Strayos? Is it able to display a borehole as a segmented line (not straight) ?
Yes, borehole data can be imported into Strayos.
10. Does Strayos use a common data to communicate with GIS and other blasting softwares? Can use large .xyz/.shp/.tiff files? Does it have a size limit to that kind of files?
Yes, it can communicate with all three file types. No file size limit.
10. Will the presentation be made available to participants?
Always.
11. When considering the geology, I've run into cases where the rock in the upper portion of the shot is much harder than in the lower portion. This consistently results in oversize material from the upper portion of the shot. Do you have a favorite strategy to mitigate this?
Adjusting loading practices through cap rock can mitigate the oversize at the upper portion of the blast. Taper loading, product adjustments and adjusting pattern or stem heights can all play a role in the oversize produce at the top of the borehole.
Speaker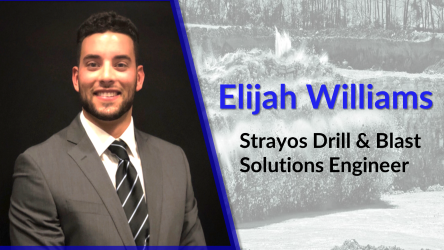 Elijah has a degree in civil engineering from the University of New Hampshire. He joined Maine Drilling & Blasting while still in school and after graduating quickly rose from drone pilot to blaster, to Quarry Engineer, and Technical Specialist. He has helped optimize blasting operations using the latest technology in quarries throughout the Northeastern US. He has now joined Strayos in the hopes of sharing how technology can help improve blasting safety and productivity in mines and quarries everywhere.
Read Elijah's Story
Check Out Elijah's LinkedIn

New technologies are rapidly changing the drilling, blasting, mining, and aggregates industries, empowering them in ways never before possible. Make sure you are taking advantage of the best tools available.
Check out our 2 Free E-books on AI applications for the drilling, blasting, and mining industries to see all the amazing advances that are available.
AI Guide for Drilling and Blasting
AI Guide for Mining
Watch our videos:
YouTube
Subscribe to
Get the latest posts delivered right to your inbox