How to Map Large Elevation Changes With Drones
How to Map Large Elevation Changes With Drones
by Elijah Williams
Whether it's mines, quarries, or large construction sites spanning hundreds of acres, drones are now recognised as the safest, easiest, most efficient, and most cost effective way to survey large areas of land. Automated flights can survey an area in minutes, providing a great amount of data at a high level of accuracy. Plus drones are now easier than ever with adaptable technology and automated flight planning. And as their use has increased, more rules and regulations surrounding their operations have grown, to guide recreational and licensed users.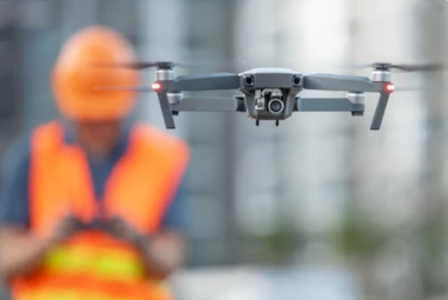 However, despite all the pluses of using drones for surveying, one challenge remains: When surveying, drones are designed to fly at constant heights. In a perfect world (for flight purposes) the terrain would be relatively flat with no obstacles. But this is very rarely the case and there are many times where an area needs to be surveyed with extreme elevation changes.
So, how do we get accurate results from these site conditions?
STEP 1: The Pre-Flight Checklist
When planning a drone flight for your job, flight planning is always the first task. Following published FAA regulations, choosing the right aircraft, checking your airspace, assessing the AOI (area of interest) and obstacles in your flight plan are all checklist items.
STEP 2: GCP (Ground Control Point) Placement
Second, is GCP placement (watch our video on GCP Placement Best Practices). When using PPK drones GCPs are needed to tie in accurate elevation and coordinate information to your flight. Make sure you have an understanding of what coordinate plane you are surveying in and what your GPS records in. (watch our Webinar on using PPK & RTK drones to increase smart drill accuracy)
If using RTK drones, GCPs are still recommended to ensure survey level accuracy, especially when surveying large areas. This is due to the potential loss of satellite signals in flight over terrain and elevation changes. GCP placement should cover the highest, lowest and any irregular terrain features on your site. Key areas might include designed foundation pads, road or utility cuts, drainage areas and highwall excavations.
Once your flight is planned with GCPs placed, you are ready to fly.
STEP 3: Planning for Elevation Changes
Third, elevations. Per FAA regulations (14 CFR Part 107), it is recommended to fly at or below 400ft (122m). When flying your site, if you have an elevation change of greater than 400 feet, you will have to plan your takeoff position wisely. Taking off from the highest point on site is almost always a good practice then adjusting flight elevation based on how low the elevation dips below.
When the elevation difference is too great, dividing your flight plan into two or more flights may be necessary.
EXAMPLE: A Tricky Wind Farm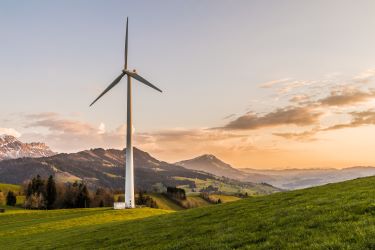 Let's take a look at a project I flew with dramatic elevation changes- a Wind Farm located high on the hills with restrictive access and lines of sight.

As seen below, from the access road for the job to the peak of the mountain where the foundation will be located, there is approximately a 1,000 foot elevation change, not including tree heights (starting elevation 1220' - end elevation 2160').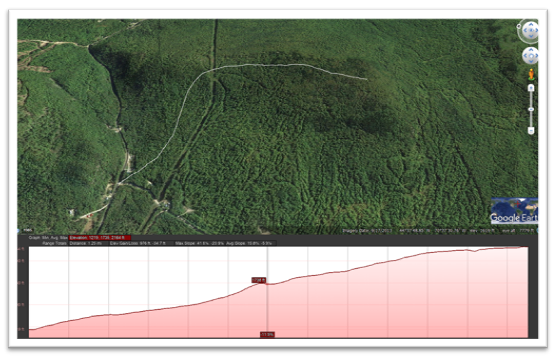 With these conditions, I had to use several drone flights to accurately map the access road, achieving the proper 60-70% overlap of images, and a GSD below 1in/px (Ground Sampling Distance: the distance between two consecutive pixel centers measured on the ground. Larger the value of the image GSD, the lower the spatial resolution of the image).
We will take a look at the two highest elevation drone surveys at the peak of the mountain. The first flight took place at foundation pads 1 and 2, where elevation ranged from 1600' to about 1900'. 8 GCPs were used in an area of about 70 acres for this flight, to map two foundations pads along with an access road.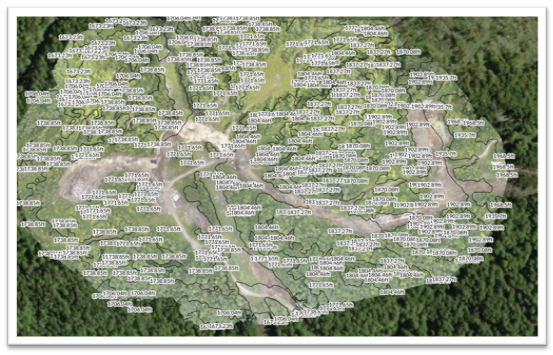 Second to this flight was the highest of the drone surveys, where elevations ranged from 1900' to 2200' spanning about 60 acres with another 8 GCPs.

With these survey examples, significant planning was essential to map out each flight to ensure all GCPs would be visible, and that no obstacles would come into obstruction within the 400' ceiling. For breakout purposes, these two areas were surveyed separately, about 1000 pictures combined.
If I had surveyed it together as one large area with a delta in elevation of > 600', the GSD would lead to less accurate results, ranging from 0.90 in/px to 1.97in/px with the Phantom 4 Pro camera specifications. Depending on the accuracy desired for your flight, it is important to keep this in mind for the area you plan to survey. (See more on GSD by DJI)
CONCLUSION: Mapping Large Elevation Changes With Drones Are Not a Problem with Adequate Planning
In the end, the benefits of drone use far outweigh the drawbacks. With proper planning and execution, surveying large areas with drastic elevation changes can be done effectively with survey level accuracy. While following FAA regulations, knowing the capabilities of your aircraft and the scope of the work being done, the data you will receive from your drone will have incredible effects on your schedule and bottom line in the construction process. These same principles apply to surveying mines and quarries, where knowing the accuracy of the results you are trying to achieve will factor in how your flight plan will be carried out.


Empowering Human Intelligence with AI
New technologies are rapidly changing the mining, extraction, and construction industries, empowering them in ways never before possible. Make sure you're taking advantage of the best tools available.
Check out our 2 Free E-books
AI Guide for Drilling and Blasting
AI Guide for Mining
Watch our videos
YouTube
Subscribe to
Get the latest posts delivered right to your inbox