Strayos Presents at Hillhead Digital Conference 2021
Ravi Sahu, CEO of Strayos, presented at Hillhead Digital Conference 2021 about using AI to increase "the perfect ton" and decrease costs in drill-to-mill operations.
Watch the Presentation
Watch the Digitalization Speaker Panel
The Hillhead Digital Conference took place on March 31, 2021 and provided the perfect platform to learn about new technologies, share innovative ideas, and learn how digitalization and automation will transform the mineral extractives sector for decades to come. Ravi Sahu, CEO of Strayos, discussed how Artificial Intelligence (AI) and autonomous remote-sensing cameras can be used to generate near real-time 3D digital representations of a quarry face, for drill and blast surveys.
Ravi Sahu started by defining to the audience what a perfect ton is:
It's more of what you want and less of what you don't want.
How do you achieve this desirable outcome while keeping safety at the forefront and minimizing effort? Sahu suggested by leveraging new sensor technology and tools, autonomous data collection processes, 3D digital twins, and AI, this objective can be achieved in mine to mill operations.
Sahu Explained How AI for Mining is Built
AI is a power tool that when leveraged helps optimize drilling, blasting, and mining operations. Strayos' AI models use drone and sensor gathered, photographic, hyperspectral, measure while drilling, seismic, (and much more) data to build better predictive models for their customers.
Algorithms are programmed to identify patterns in these datasets; AI algorithms can run repeatedly and rapidly to comb through mountains of data in seconds, identify patterns and then to make predictions based on those patterns better and better with each new data set given it.
This is what Strayos calls the AI Training Feedback Loop, where you input data and this new data is used to refine the model until a desired outcome is achieved.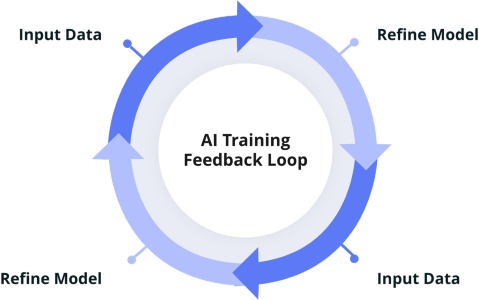 Making site predictions becomes very easy with Strayo's AI solution — what took days now can be accomplished in seconds.
Sahu Shared the Benefits of AI for Mining
According to Sahu there are many benefits to using AI in the mine to mill workflow process. Here are the top 5:
Overcoming specific pain points- AI can help identify patterns and make predictions that apply to a specific situation- for example predicting the optimal blast design for overburden throw in cast blasting.
Bridging the gap between pre-blast and post-blast data silos allows site level optimization- for example: using measure while drilling data to improve fragmentation for mill optimization
The data's universality allows company and industry wide optimization- for example: insights gathered at one site with a particular geology could be used at other sites with similar geology
Eliminates the need for everyone to be struggling with the same problems- for example automated burden analysis means everyone is relieved from having to
AI and automation allows for humans to focus their time and attention on the problems that really matter- for example automated drill logs means drillers can pay attention to drilling, blasters can see drill information on the 3D model when designing their blast, and managers don't have to painstakingly go through and analyze handwritten logs.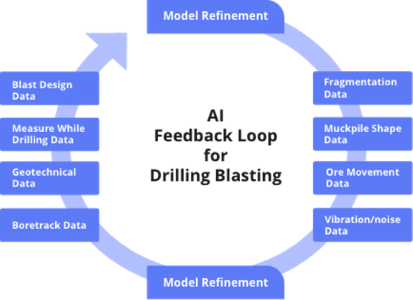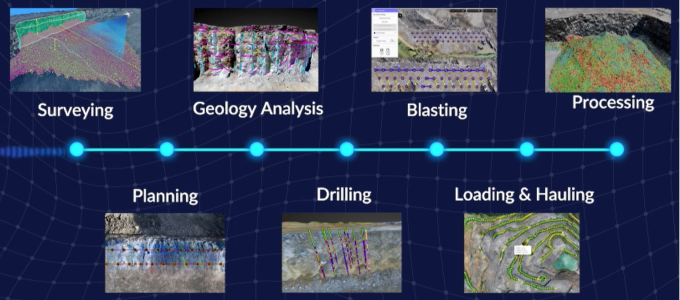 The Future of Artificial Intelligence in Mining
Sahu feels that the attitudes towards AI are changing in the drilling, blasitng, and mining industries.
Just about 2 to 3 years ago, it was a very different scenario. 70% of the stakeholders we spoke to were hesitant towards the adoption of AI technology. Now more and more stakeholders understand the value proposition and are assigning a budget to adopt and implement AI to enhance their workflow. -Ravi Sahu, CEO Strayos
Despite the industry shift in attitudes towards AI technology, there still remain challenges to implementing AI for mine and quarry operations. The biggest question that stakeholders continue to ask is related to the accuracy of the technology. Sahu knowing the power of the Strayos platform, walks his clients through different use cases and proof points gathered by evaluating datasets. When his customers truly understand the value and power of the Strayos' technology, the implementation becomes a no brainer.
Sahu remains hopeful that AI will not remain a buzzword for much longer and instead becomes a concept that each drilling, blasting, and mining company understands and implements for enhanced safety, efficiency, and sustainability.

Hillhead is the UK's largest quarrying, construction and recycling exhibition. The live event takes place at Hillhead Quarry, Derbyshire UK. They also offer a Digital event.
Strayos is an AI solutions platform, which takes data from the throughout the mining value chain to optimize drilling, blasting, and mining operations. The company operates in more than 550 sites across 8 different countries.
If you're interested in having Strayos speak at your event, please reach out to us at hello@strayos.com subject line: Speaking Opportunity.
Subscribe to
Get the latest posts delivered right to your inbox