Webinar Summary- Using Drones & AI for Automated Geometric Reconciliation & Pit Analysis
Webinar Summary- Using Drones & AI for Automated Geometric Reconciliation & Pit Analysis
Webinar Resources
Watch the On Demand Replay
Download the Presentation Slides
Summary
The geometric reconciliation of mining development is the quantification of the differences between the real state of its slopes, banks, and berms, among others, and its original design. This is critical to meeting safety, production, and operating cost targets. The major causes for not achieving the mine design include improper blasting or excavation practices and not having regular up-to-date as-built data.
Traditionally, Pit Analyses and Geometric Reconciliations have only been performed very occasionally by large mines who could afford the large costs and operations interruptions. Now with drones and AI Pit Analyses, including geometric reconciliations, can be done quickly, affordably, safely, and with no interruptions to operations.
Join Entech Principal Geotechnical Engineer Scott Muir as he discusses how drone data and AI can fully automate the geometric reconciliation and pit analysis using 3D survey data. This allows the geometric reconciliation and topographic survey of different production scenarios automatically, quickly, and with reliable results so that you can improve safety, productivity and compliance on your site.
Learn how to use the power of AI to analyze Design Conformance KPIs like:
Batter & Berm Compliance
Over-break & Underbreak Compliance
Crest Loss & Toe Flare
Effective Catch Capacity
Inter-ramp Compliance
Polls
With over 250 regitrants we had excellent audience participation. Here are the poll questions asked and their responses: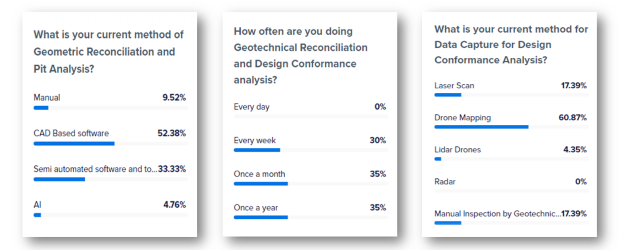 Speaker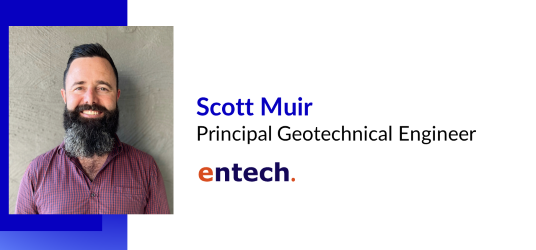 Scott Muir is Principal Geotechnical Engineer for Entech, an international mining consulting firm. He specializes in Open Pit and Underground geotechnical project consulting and operational support. With a Master's Degree in Mining Geomechanics from the Western Australian School of Mines, his career to date as a Geotechnical Engineer has involved 14 years' extensive practical experience throughout New Zealand, Australia, Papua New Guinea, Africa and Mongolia. His experience includes senior roles in technical services, supervising and mentoring technical teams, project management, stability assessments and analysis, slope monitoring, hazard identification and design of ground reinforcement in both lateral and vertical development.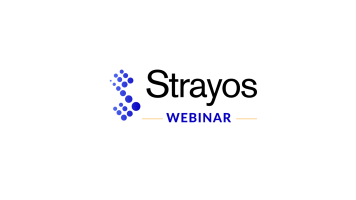 New technologies are rapidly changing the drilling, blasting, mining, and aggregates industries, empowering them in ways never before possible. Make sure you are taking advantage of the best tools available.
Check out our 2 Free E-books on AI applications for the drilling, blasting, and mining industries to see all the amazing advances that are available.
AI Guide for Drilling and Blasting
AI Guide for Mining
Watch our videos:
YouTube
Subscribe to
Get the latest posts delivered right to your inbox